Engine of 1,000mph car fired up for first time
The jet engine of a 1,000mph supersonic racing car has been successfully fired up for the first time.
Bloodhound, which is fitted with a Rolls-Royce EJ200 jet engine sourced from a Eurofighter Typhoon, was started up and taken to maximum reheat – a feat described as a "huge engineering milestone".
The test took place at Cornwall Airport Newquay, and it comes ahead of a planned drive along the airport's 1.7 mile long runway on 26 October.
But first, Bloodhound will need to undergo several days of tests to check its bespoke air intake, fuel and electrical systems.
Image: Bloodhound boasts a bespoke 3D printed titanium steering wheel
When it was fired up, the car's pilot sat in the cockpit – throttling the jet engine with his right foot.
Stuart Edmondson, the head of engineering operations for Bloodhound, said the event was a "fantastic ending" to a week of testing.
He added: "Integrating a Eurofighter Typhoon jet engine into the car is a huge challenge; however, we have succeeded.
"Witnessing the EJ200 jet engine at maximum reheat is a fantastic experience.
"Not only can you see the shock diamonds and hear the deafening noise, you can physically feel the power of the engine as your body shakes."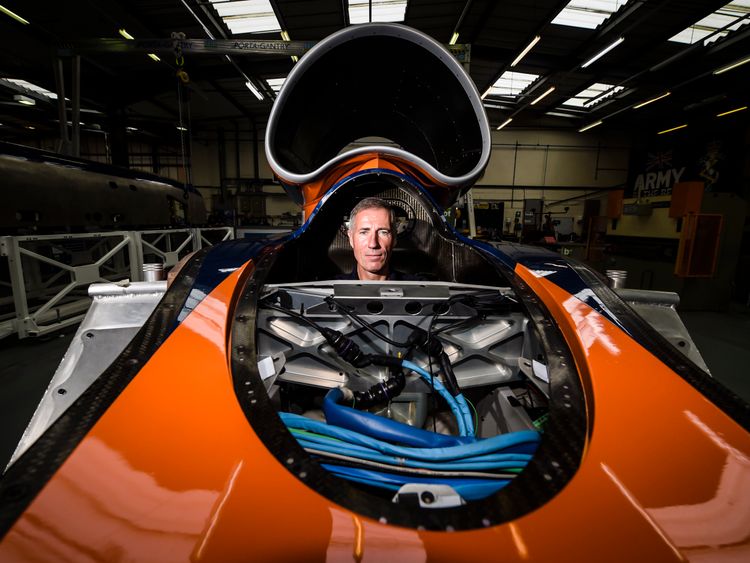 Image: Wing Commander Andy Green will drive Bloodhound for the first time on 26 October
Now the static tests have been completed, the team is focusing on what it calls "dynamic testing" – and preparing for high-speed 200mph trials at the end of October.
The car was built at Avonmouth near Bristol – and after Wing Commander Andy Green has his first experience of driving Bloodhound, the motor will head to a desert venue in South Africa.
Engineers hope it will be able to reach 1,000mph in 2018 – covering one mile in a mere 3.6 seconds.
Image: More than eight years have been spent on research, design and manufacturing
The car will be fitted with three hybrid rockets – producing 135,000 thrust horsepower when combined with the EJ200 engine.
Bloodhound is the result of more than eight years spent on research, design and manufacturing.